Description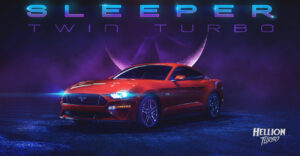 Hellion has done it again! Building on the success of our popular Sleeper turbo system for the S550 Mustang, Hellion has designed an all-new complete twin-turbo system that is emissions tested and compliant. Even though this new system retains the use of OEM catalytic converters post-turbo, the 3″ exhaust outlet is optimized to minimize backpressure and losses. After the first drive, you'll walk away thinking this is how the S550 Mustang should have came from the factory floor. So now you can have your cake and eat it too with a powerful but reliable twin-turbo system that is street friendly and EPA compliant.
This system places the turbos in a hidden location.  No supercharger can even come close to the potential of a Hellion Twin Turbo. One of our most common conversations with our customers is "I'm pulling off my supercharger and purchasing a Hellion kit. I just can't keep up with other Hellion cars." You just can't beat the power of a twin turbo Mustang.
With over 20 years in building turbo systems, Hellion has designed a true bolt-on system for the S550. There is no need to tap the oil pan or modify any factory sheet metal. The simple installation can be performed in under a day and a half in most cases.
The benefits of a twin turbo system go beyond the awesome looks and sounds of a pair of turbos–no other power adder can deliver the crushing power and torque a Hellion twin kit can.  While superchargers drag the engine down constantly with parasitic losses through a belt, a turbo setup uses spent exhaust energy to make boost–no extra losses!  This equals more power to the tires and faster times!
Equipped with:
STEEDA (Hellion specific) S550 bolt on K member – STANDARD
4 to 1 stainless turbo headers – STANDARD
Hellion 62/62R ball bearing turbochargers – STANDARD
3″ turbo exhaust outlets retain use of OEM catalytic converters (core charge or cat exchange required)
Twin Turbosmart bypass valves
Large vertical flow core intercooler (highest flow bar/plate core available — full sheetmetal construction)
Comes "complete" with ECU flashing device and supplied tune
American-made stainless steel piping (comes standard with a lifetime warranty)
Heavy duty silicone hoses for all connections
Stainless steel T-bolt clamps
High flow K&N air filters
Exclusive "industry leading" Hellion oiling system for turbochargers
All necessary bolts, nuts, hardware needed for installation
Complete instruction set to assist with at "at home" installations