Description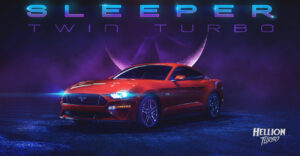 The next big thing for the Shelby GT500 is here! Recognizing the popularity of huge horsepower cars with the ultimate "sleeper" image, Hellion designed the most innovative twin-turbo system in history to fit the record setting GT500.
This the the most powerful system available for the Shelby, period. No supercharger can even come close to the potential of a Hellion Twin Turbo. One of our most common conversations with our customers is "I'm pulling off my supercharger and purchasing a Hellion kit. I just can't keep up with other Hellion cars." You just can't beat the power of a twin turbo Mustang.
With over 20 years in building turbo systems, Hellion has designed a true bolt-on system for the S550. There is no need to tap the oil pan or modify any factory sheet metal. The simple installation can be performed in your driveway.
While the base Sleeper system is a tuner kit with entry-level, cast-wheel 62mm turbos, Hellion naturally offers a massive number of available upgrades, including choice of turbo size, fuel system upgrades and even complete Blackout packages.
*Installation on the GT500 will require removal of the factory supercharger and installation of a factory or factory style intake manifold (GT350, 2018+ GT, or billet).
Equipped with:
Multiple turbo options available
Large vertical flow core intercooler (highest flow bar/plate core available)
Twin Turbosmart Comp-Gate 40 wastegates
Twin Turbosmart VEE port bypass valves